2022.01.28 [Report] Consortium partner, Ota City, Held "Entrepreneurship Seminar" for Tokyo Tech Students
Ota City, one of the consortium partners in the Super Smart Society Promotion Consortium, held a two-day "Entrepreneurship Seminar" for Tokyo Tech students who are interested in starting a business in December 2021 and January 2022.
Seven students from Tokyo Tech participated in the seminar.

December 22, 2021 (Day 1)
The first day of the seminar was held at Haneda Innovation City, a support facility for business startups in Ota City.
In the morning, after an overview of Ota city by an official of Ota City, participants received a lecture by Mr. Yonekura of SDGs Innovation HUB on the basic knowledge and preparation for starting a business, including articles of incorporation and taxation, to get a concrete image.
In the afternoon, the participants experienced riding an automated bus and visited companies that are moving into the Founder Support Office in the Haneda Innovation City District.
After that, the participants listened to Mr. Yu Kudo, CEO of Amanogi Corp. and Mr.Kawaguchi, CEO of Sigma Energy Co. Ltd.. Finally, the first day ended with an explanation of the homework for the "Entrepreneurial Plan" for the second day.
January 26, 2022 (Day 2)
The second day was conducted online due to the rapid spread of COVID-19.
In the morning, the students listened to explanations of the business activities of Nifco Inc, and Kanetsu Gijyutu Kyokai, both of which are housed in the Founder Support Office.
In the afternoon, students brought their entrepreneurial plans that they had prepared using the "Business Startup Plan" downloaded from the Japan Finance Corporation (JFC) website in advance.
After the general session, the participants were divided into two breakout rooms to discuss their entrepreneurial plans with their mentors. Through this group work, the participants learned how to effectively appeal for a loan, which is necessary to start a business.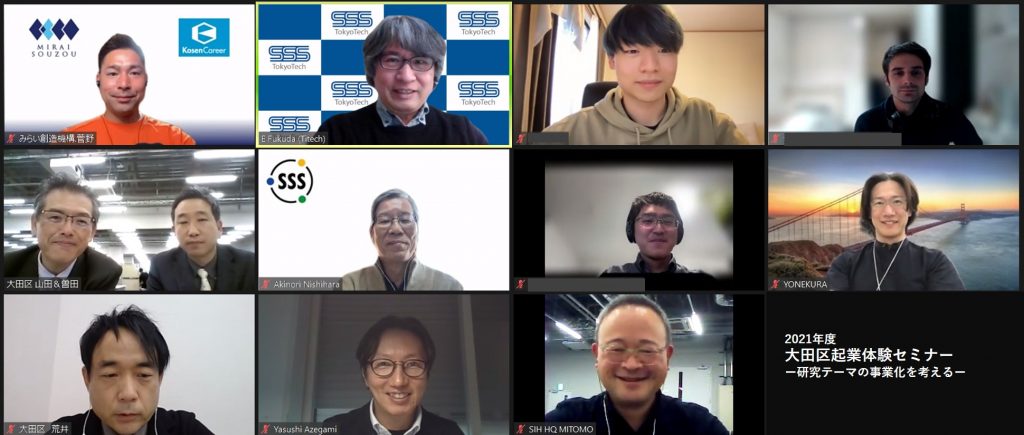 After the seminar
Some of the Tokyo Tech students who participated in the seminar commented, "This was a valuable experience that I cannot have in my regular research or classes. I feel that thinking about entrepreneurship has broadened my perspective. I am very grateful to my mentors for their very accurate advice." "This event was very helpful as we don't have many opportunities to interact with companies."
We hope that it was a good opportunity for the students not only to deepen their understanding of entrepreneurship but also to increase their motivation for research.
The Super Smart Society Promotion Consortium will continue to engage in educational activities and social cooperation in the future.
If you have any questions about this seminar, please contact us.
inquiry[at]sss.e.titech.ac.jp