2021.04.28 3rd SSS Promotion Forum on the theme of "Digital Twin" was held
Super Smart Society Promotion Consortium held a technology forum titled "Evolution of Virtual Space (Digital Twin) and New Lifestyles" online on March 8, 2021.
The forum featured five speakers who discussed the prospects for a future super-smart society through the specific application and utilization of digital technology, AI (artificial intelligence) technology, and AR/VR (augmented reality/virtual reality) technology.
This forum was held online to prevent the spread of Covid-19, which allowed many people living outside the Tokyo metropolitan area to participate. 346 people from consortium partners, general companies, and Tokyo Tech staff and students attended.
In a questionnaire survey conducted among the participants, the following comments were made: "Virtual space and digital twin are timely themes, and all of the five lecturers' presentations were very informative"; "The lecturer's comment that the Covid-19 disaster has brought us 'all the way closer' to the society of the future was symbolic and impressive. The comment by the lecturer that the Covid-19 disaster has brought us "closer" to the future society was symbolic and impressive.
Thank you to everyone who participated.
We will continue to actively work toward the realization of a super smart society.
Click here for details of the event.
See also Tokyo tech news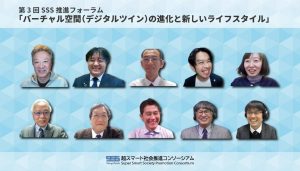 Panelists (clockwise from top left): Sakakibara, Ueno, Omagari, Oikawa, Kawakami,
Hatanaka, Fukuda, Sakaguchi, Iwatsuki, Mizumoto